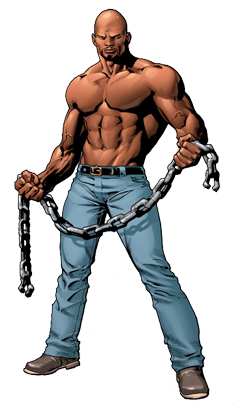 Luke Cage
"A hero in every sense of the word."
By Rob McFee
Luke Cage A.k.a. Power Man, whose real name is Carl Lucas, made his debut into the superhero world in Marvel Comic's "Heroes for Hire" issue one in 1972.
 A Brief History
In his youth the hero we know today was anything but; as a young man in Harlem Carl spent time in a gang committing crimes and fighting rival gangs; Carl Lucas was well on his way to becoming the kind of street level villain he would later fight as Luke Cage;
Being in and out of juvenile facilities for most of his young adulthood gave Carl time to reflect and see how his actions were affecting those he loved and vowed to become a better person, to become someone who gives back and not someone who takes away.
Carl found a job and turned over a new leaf and though he was out of the "life", he remained friends with gang banger Willis Stryker who was rising star in the crime world. Carl would later regret his continued friendship with Stryker.
Stryker became a target of the mob and was badly beaten and would have been killed had it not been for Carl's intervention. Stryker's girlfriend broke up with him after the beating and sought solace in the arms of Carl. Stryker blaming him for the break up planted drugs he stole from crime lord Cornell Cottonmouth in Carl's apartment and called in an anonymous tip to the authorities. Carl Lucas once again found himself on the wrong side of the law.
Incarcerated at Seagate prison Lucas found himself the target of prison guard Albert "Billy Bob" Rackham. Rackham's sadism and brutality were legendary at Seagate and Lucas was his favorite play thing. While imprisoned at Seagate Lucas volunteered for experimental cell regeneration based on the Super Soldier experiment. Scientist Dr. Noah Burstein, immersed Lucas in an electrical field conducted by an organic chemical compound, during the procedure Dr. Noah Burstein left Lucas unattended where he was once again at the mercy of Rackham who tampered with the controls dangerously accelerating the process imbuing Lucas with steel hard skin and superhuman strength. With his new found abilities Lucas was able to escape Seagate relocate to New York City and restart his life as Luke Cage. Luke Cage went on to become New York City's Hero for Hire; taking jobs where he used his new found abilities to do the right thing, as well as make, a living.
The Legacy
"Luke Cage Hero for Hire" ran for 13 issues from 1972-1973. In 1974 the comic book became "Luke Cage Power Man" and ran for 33 issues ending in 1978. Cage would continue his adventures in the perfect team up book we all loved "Power Man and Iron Fist" this title ran for 76 issues between 1978-1986. In 1992 Luke Cage returned for 20 issues in a self-titled comic "Cage" this time minus the chain belt and signature tiara. The series wrapped in 1993.  Over the next 14 years Luke Cage AKA Power Man would appear in a few miniseries and be a featured character in "Alias" and "The New Avengers" both written by Brian Michael Bendis. Some, myself included believe it was Bendis who took Cage from comic book obscurity and made him once again as relevant as Tony Isabella did in his "Hero for Hire" heyday. Luke Cage and best friend Danny Rand made a triumphant comic book return in 2016 with "Power Man and Iron Fist" currently up to 10 issues and going strong.  Luke Cage has a new title premiering at your local comic shop October 5th it's titled "Cage" with art by Genndy Tartakovsky of Cartoon Network "Samurai Jack" fame.  Cage's popularity has only increased with his role in the Netflix series "Jessica Jones" portrayed by Mike Colter and now with a solo Netflix series of his own; premiering September 30th along with the much anticipated "Defenders" series on the horizon; I believe Luke Cage will be a staple and a fan favorite for a long time to come.
 Michael Colter "Luke Cage" Netflix Series