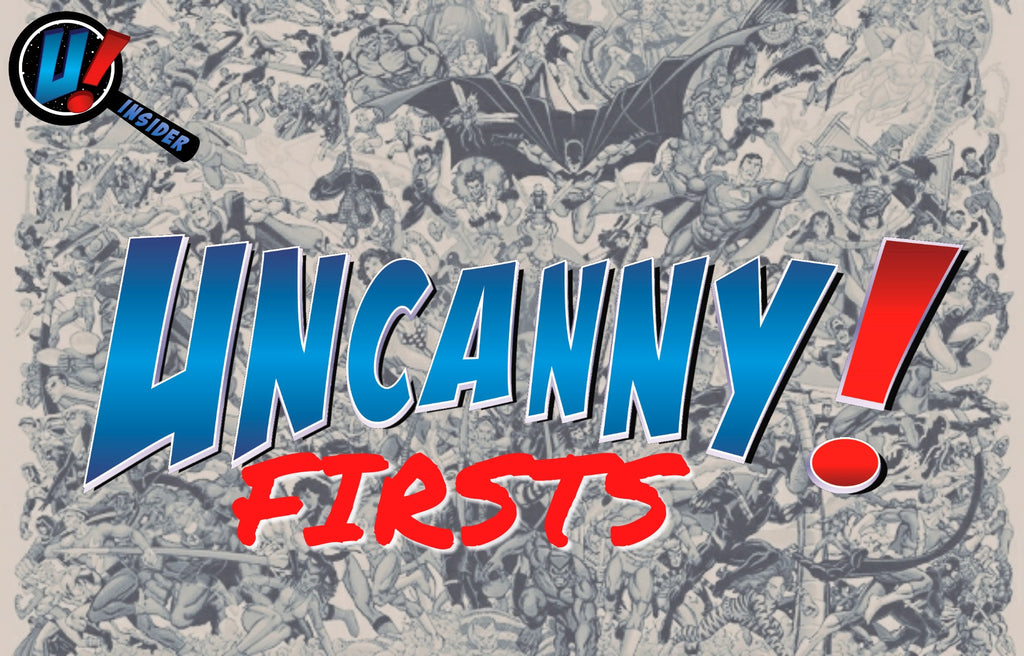 By Dustin M. Best
Welcome to your weekly dose of fresh, new titles hitting shelves tomorrow, Wednesday the 10th of Villain's Month (May if you aren't following). Here you will gain an Insider's look at what titles you can expect to see at your local Uncanny!
Bug!: The Adventures of Forager #1 – DC
Lee Allred (W), Michael Allred (A/CA)
"An all-new Young Animal miniseries begins! Forager is just one of the Hive before he breaks out of his cocoon and finds himself in a mysterious house in an unknown realm. There he meets all kinds of strange creatures: a ghostly girl, a talking teddy bear and otherworldly weirdos that have literally jumped out of his worst nightmares. But these interdimensional oddballs are nothing compared to the evil General Electric, who is on the hunt for a reality-bending metal that could alter the fabric of life itself. To stay one step ahead of him and preserve the multiverse, Forager must travel through alternate dimensions to seek the metal and, hopefully, catch up with that cagey stuffed bear. If he does it, will he finally be able to distinguish himself as a New God?" - DC Comics
Dragon Age Knight Errant #1 – Dark Horse
Nunzio Defilippis, Christina Weir (W), Fernando Heinz Furukawa (A), Sachin Teng (CA)
Who has played, or heard of, BioWare's RPG franchise, Dragon Age? Well get ready for a collaboration between BioWare and Dark Horse Comics in presenting the Dragon Age Knight Errant limited series comic run. This is a five-issue series detailing the trek of elven theif Vaea and her voyage to Kirkwall. Knight up!
Eternal Warrior Awakening #1 – Valiant
Robert Venditti (W), Renato Guedes (A)
"On the brink of carving out victory in the most violent battle of his life, Gilad Anni-Padda suffers a devastating injury. He awakens weeks later in a strange land, nursed back to health but with no memory of his past. A tribe has shown him compassion in an age of cruelty, and he will return their gift in kind. Now the real violence will begin…" – valiantuniverse.com
Misfit City #1 – Boom! Studios
Kiwi Smith, Kurt Lustgarten (W), Naomi Franquiz (A)
Boom! Studios has been churning out serious good reads lately (God Shaper, Grass Kings to name a few), Misfit City promises to full right in line. Central character Wilder and friends find themselves engulfed in adventure when they discover an ancient pirate map drawn by the mysterious Black Mary. From the looks of things we are headed into a certain "truffle shuffle"-esque adventure!
Pierce Brown's Red Rising: Sons of Ares – Dynamite
Pierce Brown (W), Eli Powell (A)
"From the world of the best-selling YA series Red Rising comes a story of love and loss and rage! In the future, when mankind has spread across the stars, the hierarchy of man is dictated by the color of one's caste. The Golds rule all, but what will happen when one falls for a lowly Red? See how a forbidden love will set the course of events for the future and lead to the formation of the formidable Sons of Ares! Written by author Pierce Brown (The Red Rising Trilogy) and Rik Hoskin (Heroes of Skyrealm, Brandon Sanderson's White Sand), with art by Eli Powell (Yakuza Demon Killers, The 13th Artifact), comes the in-continuity story of revolution and Red Rising!" – Dynamite Entertainment
Regression #1 – Image
Cullen Bunn (W), Danny Luckert, Marie Enger (A/C)
"Adrian is plagued by ghastly waking nightmares. To understand and possibly treat these awful visions, Adrian reluctantly agrees to past life regression hypnotherapy. As his consciousness is cast back through time, Adrian witnesses a scene of horrific debauchery and diabolism. Waking, he is more unsettled than before, and with good reason—something has followed him back. Adrian descends into a world of occult conspiracy, mystery, reincarnation, and insanity from which there is no escape." – imagecomics.com
Rocket #1 – Marvel
Al Ewing (W), Adam Gorham (A)
No, he's not a raccoon! Guardians of the Galaxy mainstay, Rocket has a fresh new series being released based on his heist days. This is sure to be an out of the world, Rocket meets Italian Job book so get on board now!
Secret Warriors #1 – Marvel
Matthew Rosenberg (W), Javier Garron (A)
The new Secret Warriors series jumps right aboard the Secret Empire wagon with their very first issue. This incarnation of Warriors is Inhuman bred and led by Agents of SHIELD star, Daisy "Quake" Johnson. The team looks just as fun featuring Ms. Marvel, Moon Girl & Devil Dinosaur, Karnak and Inferno. Marvel describes this series as "one part coming-of-age story and one part spy-thriller". Let the terrigen take hold and let your reading become more Inhuman!
Star Wars: The Screaming Citadel #1 – Marvel
Kieron Gillen (W), Marco Checchetto (A)
Part One of The Screaming Citadel finds Luke Skywalker and Doctor Aphra teaming up. The shaky alliance is further complicated when they run across a secret meeting deep in the recesses of the Screaming Citadel. How will this unlikely duo work together to find what they each are looking for? Make sure to pick up Part One this Wednesday!
Remember to stop by your local Uncanny! tomorrow to pick up these titles while they last!
Uncanny! is committed to providing great products and quality service to all of our customers, both in-store and online. To become an Uncanny! Insider, click the logo below, and make sure to enter your email to stay up to date with everything that's happening at Uncanny! and in the comic book, pop culture, and gaming world.