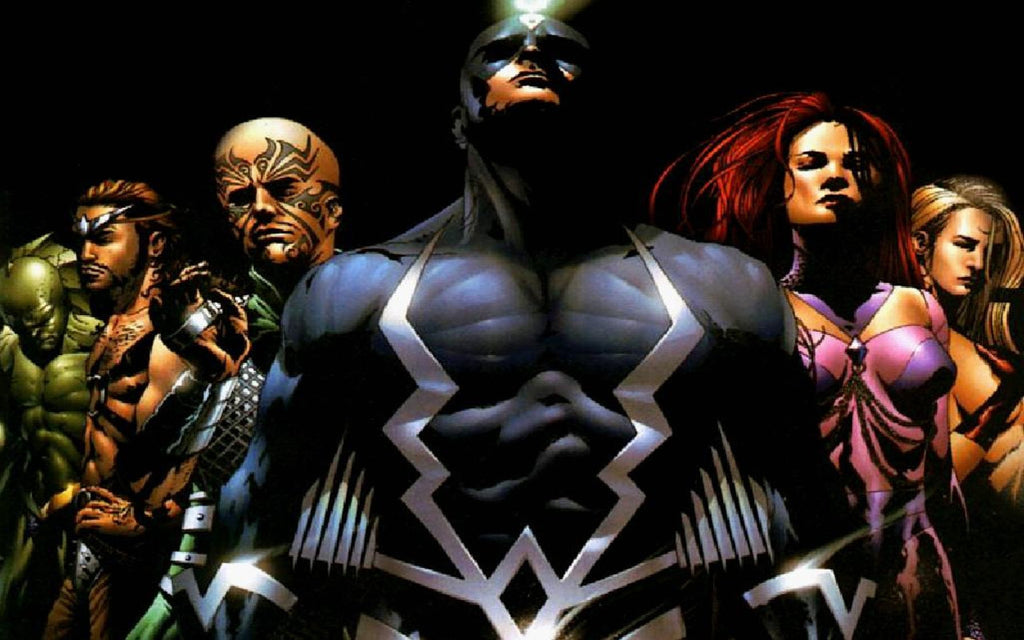 By Josh Lucas
Tuesday night Disney and Marvel made an announcement that I am still reeling from. The "Inhumans" movie, which was originally slated for a November 2018 release, will now make its debut in an unprecedented ABC television and Imax partnership. The show will be produced by Imax and have its first two episodes shot completely on Imax cameras.
.
Those two episodes will be released in theaters in September of next year followed by the other six episodes airing on ABC sometime after. You may want
to read this paragraph again, and in case you're not catching on; meh is not the appropriate response.
This is crazy news that could change the MCU and the entertainment industry.
Let's start with Imax producing a television series. Like, what!?! As far as I know, this is literally the first time they've ever done this. Now, they've had an incredible relationship with Disney over the past couple of years, but it can't be overstated how crazy of a move this is. It shows foresight in a changing entertainment industry and trust in the Marvel brand. Plainly put, we are living in a Golden age of television and a decline of the American Cinema. Ticket sales for theaters are way down the past couple
of years and I've heard many insiders point to the very high quality television as a possible reason.
Let's face it, shows like Game of Thrones, West World, and Stranger Things have production on the level with major Hollywood movies. They are also easier to purchase and able to be enjoyed from the comfort of your home. This move by Imax sets a precedent by bridging the gaps between these two industries.
Now, Imax is probably not putting up all the money for this show. I mean, I think it's pretty clear that ABC is shouldering a lot of the production. Check out this quote from Ben Sherwood who is the co-chairman of Disney Media Networks and the President of the Disney/ABC Television Group; "This unprecedented alliance represents a bold, innovative approach to launching great TV content for a worldwide audience. It highlights Disney/ABC's unrelenting commitment to finding new and creative ways to showcasing our very best programming and increasing global engagement and reach." -Hollywood Reporter
Now, there's a lot I take away from that quote, but most relevant is the fact that he calls it an alliance and that he thinks of this project to showcase their very best programing. So, Disney and ABC are clearly putting up some big cash on this one and they wouldn't be doing that without a clearly defined outcome. They want to change the game.
Like I said, we're living in a Golden Age of television, but it's important to note that a lot of that stuff is either original programing or shows that don't have a traditional network home. Disney can see the success of Game of Thrones and even their own Netflix
shows as an example. I truly believe they are trying to condense the season and put everything they have into these episodes. I expect the show to have a tight narrative with INSANE visual effects, I mean you don't get out Imax cameras to shoot dialog scenes in a dark room.
The property itself is perfect for this kind of format. One of the big issues I had when the Inhumans movie was first announced was the lack of time we'd have with these characters.
The "Inhumans" are not widely known by the casual movie going audience, and their family and regal dynamic (which is so important to their identity) would be really hard to honestly portray in under two hours. Disney will now be able to get people into the theaters by selling this as an experience and they'll have the time
they need to get audiences of wide ranging comic book knowledge on the same proverbial page when it comes to these characters. I'm getting a very Game of Thrones vibe (can you tell I'm a fan?). I mean,
this will be a story of a Royal family, a King and his reign, and a bloody history of battles.I'm going to be following the news about this as more and more information comes out. I'll also be
reading and re-reading many great "Inhumans" comics as I prepare for what Marvel and Disney have in store for us. Speaking of In store, Uncanny and the good people there can help get you educated by setting you up with some great comics about the "Inhumans" and their many awesome characters. I'd also recommend checking out a video I just did on my YouTube channel about this announcement.
https://www.youtube.com/watch?

v=MlIXk1zD0-Q
Oh, and if you see me at any of the Uncanny! locations, feel free to spark up a conversation about this. I. Am. Friggin. Pumped.