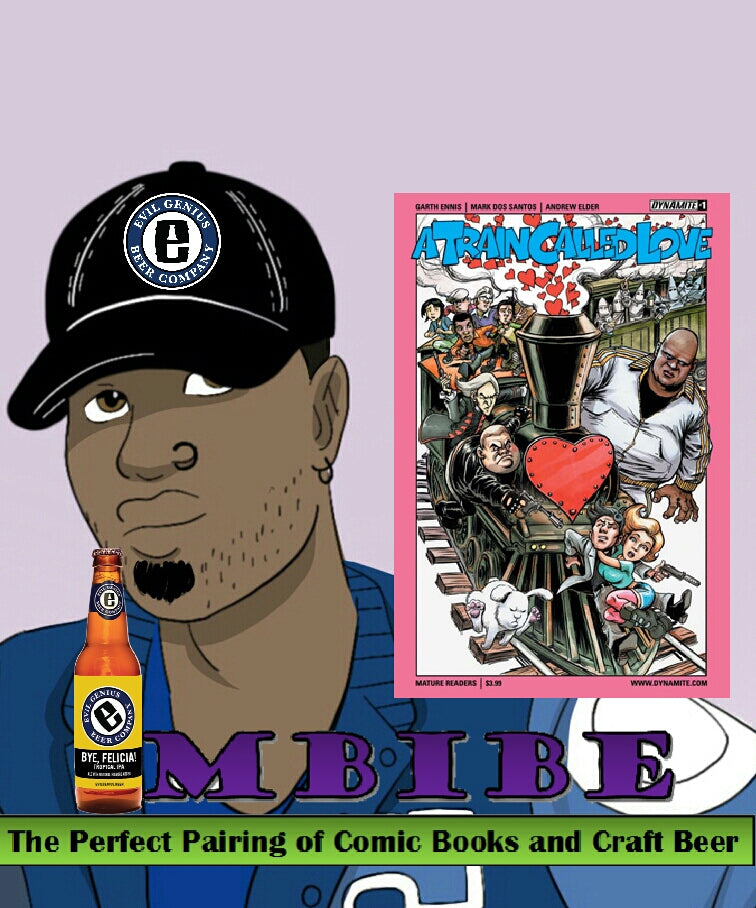 This blog is intended for readers 21 and over
By Rob McFee
This Weeks Pairing:
" A Train Called Love" written by Garth Ennis; art by Mark Dos Santos and cover art by Russell Braun. Published by Dynamite Entertainment and Spitfire Productions 2016
"Bye Felicia" - Tropical IPA - 6.5% Alcohol By Volume (ABV)-  Evil Genius Beer Company, Philadelphia PA, USA
I have to begin by saying that discovering these two amazing creations was equal to that feeling you have when you find a crumpled twenty dollar bill in an old pair of jeans, that's been deteriorating in the hatchback of your 1978 Ford Pinto. 
"Eureka! I found treasure!" 
Our pairing begins with the smile on your face provided by the sheer hilarity of the name of the craft beer "Bye Felicia" (A well known line from the movie "Friday")
add to that the "Monty Python-esque" cover of "A Train Called Love" (Cover art by Russell Braun) and you know you're in for some the pure unadulterated enjoyment with your imbibing experience.
At first pour "Bye Felicia" is hazy pale and golden much like the season it's brewed for; you'll get about an inch thick pure white head that dissipates to a nice lace; the aroma is everything the bottle advertises, very tropical with definitive passion fruit notes and hints of mango; its a sweet bouquet,but not too overpowering.
The presentation of this beer pairs well with the cartoonish art Mark Dos Santos whose style is reminiscent of "Adult Swim's" "Venture Bros."; cartoonish with adult themes.
The colors of this dark/ action-comedy set the tone/mood for the reader and range from bright and pastel to dark and muted. Coloring duties on this book are brought to you courtesy of not one but two colorists; Andrew Elder and Salvatore Aiala Studios. 
But what is art and color without story? Some would say it's the bottle without the beer. On that note that is where this pairing shines the brightest.
"A Train Called Love"
Acclaimed graphic novelist Garth Ennis (Preacher, The Boys)  takes you on a multi-layered romp, exploring the highs and lows of love. Valerie's being stalked by a pervert; she meets Myles a gentlemanly hitman a.k.a. man of Valerie's dreams and executes said pervert (not for Val but for work) inadvertently making Valerie a target for the gangster known as Mister Monsta. Meanwhile, Valerie's sister is dealing with a pervert of her own, her boyfriend Marv who has a crazy get rich scheme to sell drugs that he found to Mister Monsta… some how through all of this love blossoms while bullets fly, in this dark romantic farce that is classic Garth Ennis. 
"Bye Felicia"
Much like it's pairing partner "Bye Felicia" is complex in concept and flawless in execution. At first taste your taste buds are treated to a tropical rainforest of flavors; passion fruit, mango, a hint of citrus and hops, but then there's that slightly bitter bite that IPA lovers know all to well. It's the balance of this beer that makes it special and like it's pairing partner "A Train Called Love" that is equal parts dark comedy, romance, and action; "Bye Felica" walks a that same fine line. If it was too sweet it becomes just another fruit beer; if it's too bitter it's a weakly flavored IPA , but the brew masters at Evil Genius Beer Company found a way to marry these two concepts into a perfect union that is enjoyable and fun. That's right fun! "Bye Felicia" is a beer of celebration and good times and with a 6.5% ABV the good times are even better.
So if your tastes skew toward absurd dark comedies and fun IPAs then this is the pairing for you.  Until next time, read and drink responsibly.