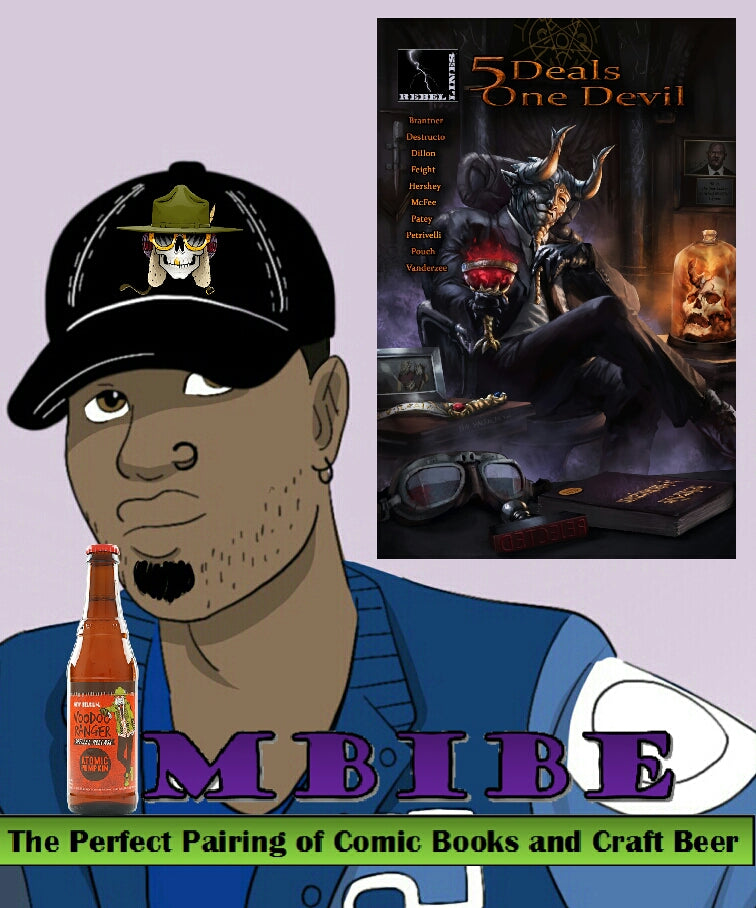 This Blog post is intended for readers 21 and older.
By Rob McFee
What happens when you take a great idea and add some heat?
You get an amazing pairing just in time for the pumpkin spice season and Halloween .
This Weeks Pairing:
 "5 Deals One Devil" (Anthology) written by, Johnny Destructo, Benton Feight, Tim Hershey, R. Lawrence McFee, Rob Patey, and Steve Petrivelli, with art by Jordan Brantner, Johnny Destructo, Sean M. Dillon, Mike Pouch, and Kristie Vanderzee. Cover art by Nik Hagialas. Published by Rebel Lines, Pennsylvania USA
Voodoo Ranger "Atomic Pumpkin"- Pumpkin ale featuring cinnamon and Habanero peppers- 6.4% ABV (Alcohol by Volume)- New Belgium Brewing Company Fort Collins, CO USA
To get things started, I feel I must be totally transparent, the comic book featured in this pairing is one I had a hand in creating along with some incredibly talented writers and artists. "5 Deals One Devil" is an anthology created from a simple premise. Partner with aspiring comic book writers and artists pair them up and have each team of creators write and draw a five to ten page story about a deal with the devil.  Out of that idea, we got some pretty cool stories. I hope you like them.
Our pairing begins with the bottle and cover art, both which are equally foreboding and inviting at the same time.
Cover artist Nik Hagialas gives us a devil lounging in his trophy room. New Belgium provides the imbiber with the skeletal Voodoo Ranger comfortably posed on the label; both seem to have a perpetual smile on their face, though one can never tell with a skeleton or a devil behind a mask. The bottle and cover glow in a brilliant pumpkin orange that immediately sparks memories of chilly fall nights, jumping in piles of leaves, and of course Halloween. The process of creating the right cover to capture what's inside is not easy. Nik had to read each script to determine what piece of memorabilia to add to the trophy room. I can only imagine the team at Frost Motion went through something similar in creating the Voodoo Ranger.
- Nik Hagialas Cover art process
At first pour you are greeted by a pale amber color reminiscent of fall leaves, and a thin white head that dissipates to a nice lace. The aroma is definitively pumpkin, cinnamon, and nutmeg, but there's something else, neither sweet or bitter; something with a kick and a fire, like those red hots you enjoyed as a kid. "Proceed with caution", your nose warns your palate. 
As you begin to turn the first page of the anthology you come face to face with the devil!  (a pin up drawn by the talented Christian DiBari, Image Comics)
The first story is " A First Time for Everything" penned by Benton Feight and drawn by Mike Pouch is a story about the first deal ever made between a human and the devil. Feight's story guides the reader into the anthology with a tale that captures the essence of what this anthology is all about, good storytelling . Mike's art style is raw and unforgiving and brings to life a period of time when those qualities were the law of the land.
Once you've gotten a taste of "5 Deals One Devil" you'll immediately understand why Voodoo Ranger Atomic Pumpkin is it's perfect pairing partner; At first taste you are greeted by sweet pumpkin, and cinnamon, but then the Habanero peppers kick in adding heat to this pumpkin ale that makes it anything but run of the mill. The feel in the mouth is smooth and silky followed by a warming in the throat and chest (making it perfect for fall nights).
The hidden fire contained in both comic and beer puts the imbiber in the role of the moth being drawn to a flame circling ever closer hoping not to get burned. As you continue on your imbiber's journey, the devil takes center stage in stories that will shock and entertain you, while Voodoo Ranger Atomic Pumpkin provides the flavor and the heat.
-Pages from "Tainted Love" by McFee and Dillon; "Never Thought This Would Be My Life" by Hershey and Brantner
If you're looking for a pairing that is one of a kind then "5 Deals One Devil" and Voodoo Ranger Atomic Pumpkin are your perfect pairing. 
Until next time read and drink responsibly.
If you can't find a copy of "5 Deals One Devil" at your local comic shop. Please email rebel.write.art@gmail.com