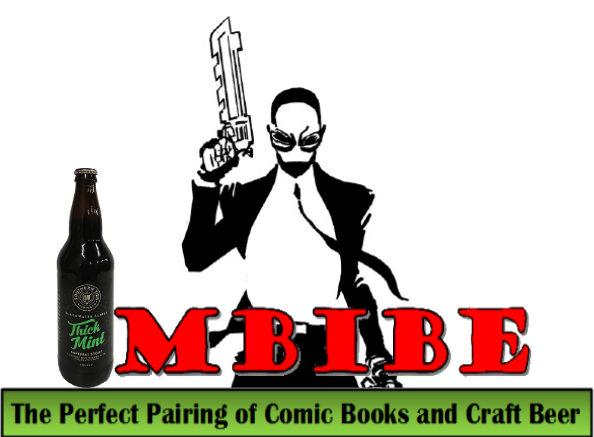 This blog post is intended for readers 21 and older
by Rob McFee
This Weeks Pairing:
Renato Jones The One%- Season One- Written, Drawn, Colored, and Owned by Kaare Kyle Andrews- Published by Image Comics- January 2017
Black Water Series: Thick Mint- Imperial Stout brewed with chocolate and mint- 10.0% Alcohol by Volume (ABV)- Southern Tier Brewing Company- Lakewood, NY USA
Our pairing begins with a simple question.  What are the best words to describe the sheer awesomeness of these two creations?
Dark, deliberate, boldly defiant, seductively sweet, silky smooth, rich, and incredibly cathartic, were just a few of the adjectives that came to mind when I imbibed
"Renato Jones The One% Season One" and Southern Tier's Thick Mint.
Kaare Kyle Andrews, creator, writer, artist, colorist, and owner, takes us into the dark anything goes world of the One%. A world where the innocent fall prey to the perversions and fetishes of the "Elite" and where everyday people are used, traded, and discarded without a second thought.
A world where money rules, and those who have the money make the rules. (Cue C.R.E.A.M by Wu-Tang Clan)
The One% own more than half the world's wealth. They've crashed economies, bought governments, and have amassed more power than any other group in history.
With that kind of power, how can anyone make them pay? Who will make them pay?
Enter Renato Jones, at first glance he seems to be just another spoiled one percenter born with a platinum spoon in his mouth, but this wolf in sheep's clothing, is a dangerous vigilante, out to even the score. 
At first pour Thick Mint is smooth, dark brown, and lightly carbonated, with an aroma of dark malts, chocolate and mint. At first taste your palate will delight to chocolate and mint flavor that is so perfectly balanced in this dessert beer. Thick Mint is rich and seductively bitter/sweet, and with its 10.0% ABV you'll momentarily feel like a one percenter as you imbibe luxury in a glass.  It's very clear the newest member of Southern Tier's Black Water series was inspired by a particular delectable cookie of the mint and chocolate variety.
"Renato Jones The One% Season One" and Southern Tier's

Thick Mint 

are the perfect pairing of a supercharged capitalistic action revenge thriller and a decadent imperial stout that will make you wonder, if it might be too good for you. Renato Jones and

Thick Mint

equally demand
the imbiber's undivided attention, and both will equally leave you wanting more.
Until next week, read and consume responsibly.
Please feel free to comment. If there's a craft beer or comic you'd like to see paired, feel free to leave your suggestions in the comments.
Uncanny! is committed to providing great products and quality service to all of our customers, both in-store and online. To become an Uncanny! Insider, click the logo below, and make sure to enter your email to stay up to date with everything that's happening at Uncanny! and in the comic book, pop culture, and gaming world.