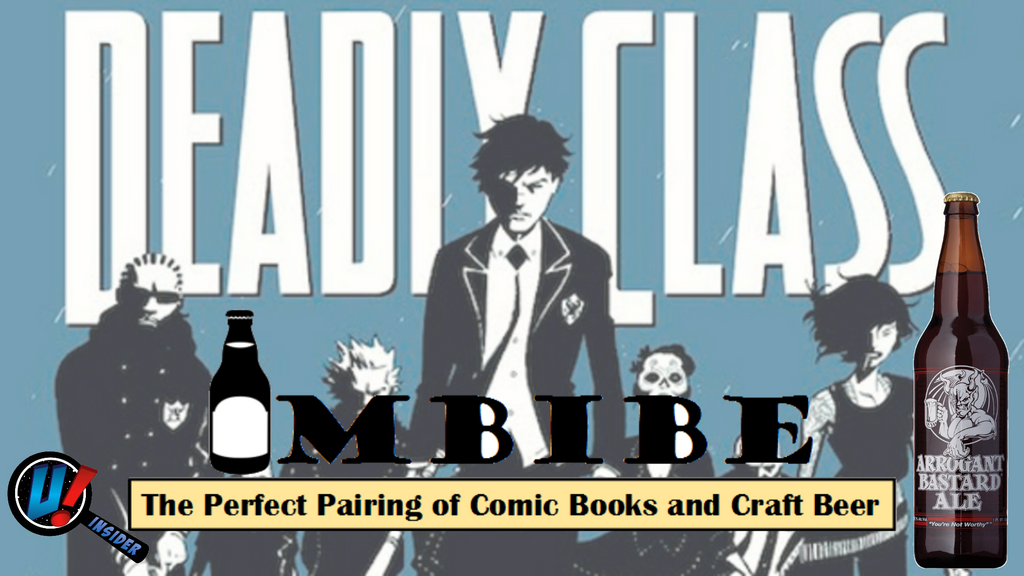 This blog post is intended for readers 21 and over.
by Rob McFee   
I'd like to welcome you to the first weekly installment of "IMBIBE- The Perfect Pairing of Comic Books and Craft Beer". Every week I'll be pairing some must read comic books, trade paperbacks, and graphic novels with some of the tastiest craft beers brewed from all over the world.
Why Comic Books and Craft Beer?
Comic book creators and brew-masters, have a lot in common, both create out of a love of what they do, and are inspired to share their creations with the world to accept, critique and ridicule at will. Both spend endless hours developing recipes, characters and stories; some have spent years in research and development until their product is ready for our consumption. In short, both are artists.
The Criteria for Pairing
Comic Books and Craft Beers are paired by answering the following questions:
Does the taste/flavor of the beer match the depth and tone of the comic?
Does the art capture the presentation of the beer?
When the story is over and the beer is gone am I left feeling satisfied?
Would I recommend either to a friend? (The answer must always be yes)
Our First Pairing:
"Deadly Class Vol.1" with Arrogant Bastard Ale
"Deadly Class Vol. 1- 1987 The Reagan Youth"  story by Rick Remender- Art/Cover by Wes Craig & Lee Loughridge- Published by Image Comics, July 16, 2014
Arrogant Bastard Ale  - American Strong Ale- 7.20% Alcohol by Volume (ABV) Arrogant Brewing, Escondido, California USA
"Deadly Class" and Arrogant Bastard Ale are not for the faint of heart. "Deadly Class" is visceral and violent in it's nature, as well as, brutal and honest with it's characters, the storytelling is unapologetic and at times uncomfortable -  
-At first pour Arrogant Bastard is dark and foreboding; a deep red wood color with an off white head; the hoppy, fruity aroma promises this beer will be an "acquired taste"- Much like the art of Wes Craig his style is not traditional and very "indie", but has a way of capturing the emotion and tone of every panel. The colorist Lee Loughridge uses a muted palette which compliments this dark ale in a way only comic readers and artists can appreciate.
 "Deadly Class Vol.1- 1987 The Reagan Youth" takes place in the late 80's well before the thing we call "social media" is prevalent in our lives; It follows the life of Marcus Lopez Arguello an orphaned homeless teen who has been to the bottom and is desperate for a way out. Through a series of events Marcus finds himself being invited to attend a very private and very exclusive high school, Kings Dominion, a boarding school for assassins. Marcus must navigate his way through a high school of killers and deal with all the cliques and clichés we remember from our youth.  He becomes our unknowing guide as we meet students from all over the globe each from different walks of life and with their own reasons for attending this unique and deadly school. A school where killing is not only the course of study, but the only way to make the grade.
Arrogant Bastard Ale, much like Kings Dominion, proves to be more than what it appears to be at first glance. At first taste your palate is hit with the citrusy/pine flavor of the hops, but then there's something else, deeper...darker. Caramel maybe? Definitely a fruit like over tone. But what could it be? Only the brew-master holds that secret; but the one thing you do know is that you have to have another taste, and just like Marcus, suddenly you're all in, no matter what becomes of you, you will see it through.
Remender is a master wordsmith giving details about each character on a "need to know" basis, allowing the mystery and motivation of all the attendees of Kings Dominion to guide you to your own conclusions based on their actions and reactions. He has an uncanny ability to make the reader relate to his characters through their flaws, it is high school after all.
You'll find yourself frustrated with Marcus simply because he's a socially awkward high school kid, pretending that he's not. "Get over it man! Its just high school!" I've said aloud a few times while reading this comic.
Rick's writing touches something deep in your core, the same way Arrogant Bastard Ale hits the right spot, especially with a 7.20% ABV.
"Deadly Class" and Arrogant Bastard Ale are not for everyone, then again nothing is, but for those of you who enjoy masterful storytelling, great art, and a solid craft brew you should definitely give this pairing a try.
Until next week read and consume responsibly!
Please feel free to comment.  If there's a craft beer or comic you'd like to see paired, feel free to leave your suggestions in the comments.