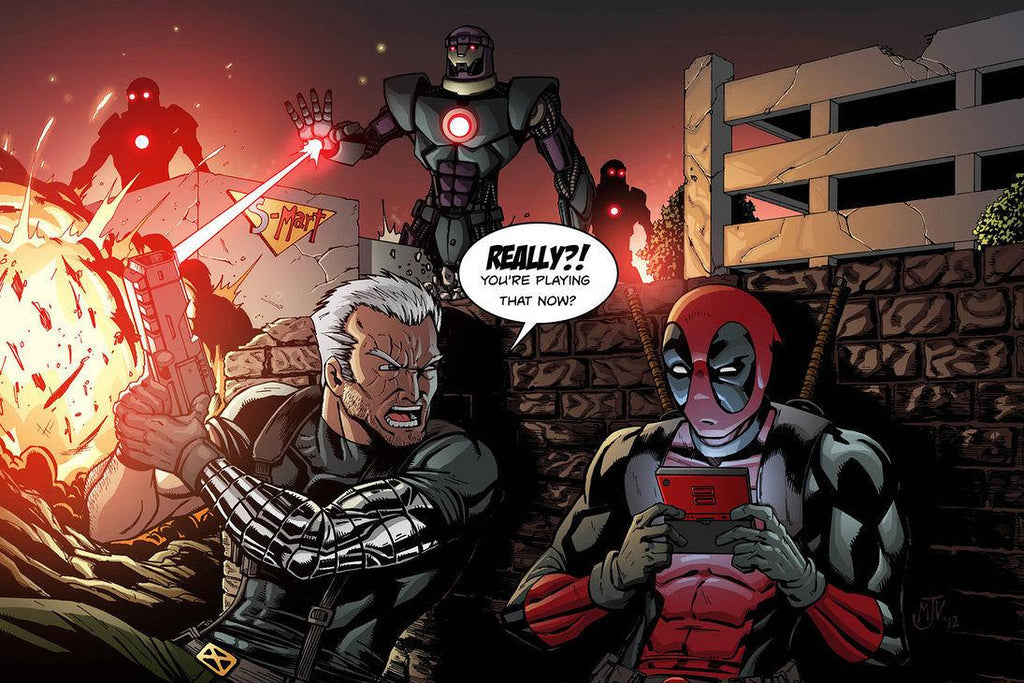 by Dustin M. Best


Fresh off of the beach, I welcome you to another sultry edition of Marvel Tidbits. That's right...all the mental Marvel fun-in-the-sun without the risk of getting burnt like a crisp and no sand where it really shouldn't be. 

This week in Marvel Tidbits we 'glitter, glisten, gloss, floss' over a key villain returning to haunt a member of the Defenders, our first look at Josh Brolin's Cable and a fresh, mystical new international trailer for Thor: Ragnarok. 
Let's chow...
Purple Man

Marvel Jessica Jones courtesy of Entertainment Weekly
Is it just in your head or is that really David Tennant's Kilgrave aka The Purple Man? That's right, Kilgrave has seemingly returned from a nasty case of broken neck-itis for the Netflix/Marvel combo, Jessica Jones season 2! 
What role will Kilgrave have in season 2? Will he continue  to haunt his former victims? We will have to wait for 2018! 
 Not So Basic Cable
Well there you have it, your first full on glimpse of Josh Brolin as Cable in the upcoming Deadpool 2 movie. In true Cable fashion he is loaded up and draped down with plenty of ammo and a gluttony of explosives...and an alarmingly snuggly teddy bear. Not to be outdone by his weaponry, the telepathic and telekinetic Cable showcases his trademark glowing left eye (no Lopez) and machine/metal-esque left arm. 
As a life-long Cable fan, this certainly receives my tip of the cap in terms of style and look. Need a little Cable/Deadpool primer? Check out Split Second right here!
Conjuring Up Ragnarok
While I make it a commitment to myself not to check out any trailer past the second one made...I'm struggling not clicking play to catch the International Thor: Ragnarok trailer featuring the first glimpse of Doctor Strange in the movie. So if you really feel like geeking out...you do your thing.
Comic of the Week
My affinity for Marvel, especially the X-Men, is very well known. While I am adjusting to Marvel shipping a handful of titles twice monthly a la DC, I have thoroughly enjoyed the young cast of X-Men Blue. This week's #9 issue wraps up the mini Secret Empire tie-in run. In a nutshell, the young X-Men have tried their darndest to foil the White Queen's hold on New Tian...the mutant/human nation that once was the land of California. 
The series is a very fun, exhilarating showing of these young mutants led by Magneto. There is plenty of depth in terms of storytelling and plenty of questions to keep the  reader flipping forward. I highly suggest starting up a subscription today at your local Uncanny! for this series!
Song of the Week
Awesome. While it's not the Hoff sloppily eating a cheeseburger...it is an amazing music video featuring some of the cast from Guardians of the Galaxy promoting the upcoming digital and blu-ray release of Guardians of the Galaxy Volume 2! 
If that doesn't wrap up Tidbits...and if that doesn't make your Thursday...then I don't know what will. Keep it light!
Uncanny! is committed to providing great products and quality service to all of our customers, both in-store and online. To become an Uncanny! Insider, click the logo below, and make sure to enter your email to stay up to date with everything that's happening at Uncanny! and in the comic book, pop culture, and gaming world.