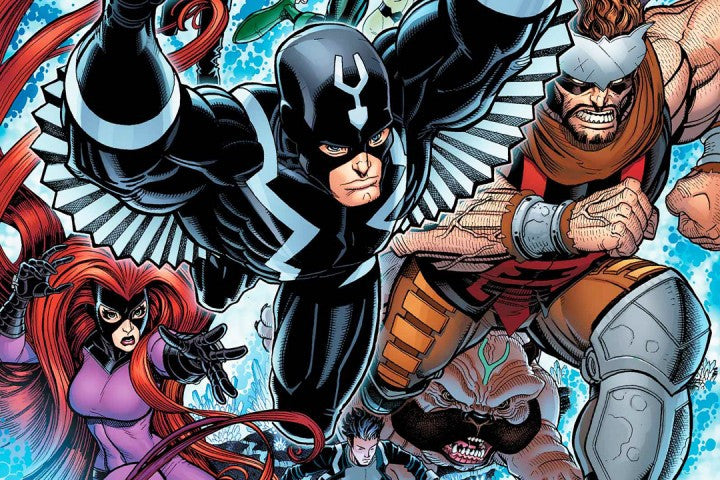 by Dustin M. Best
In this week's fireworkin' edition of Marvel Tidbits w/ Dustin, the first look at the very royal upcoming ABC Series, Inhumans and the ongoing sneak peak of the Marvel Legacy comic run. The Comic of the Week is building upon an empire and the Song of the Week gets our Spidey-Sense tingling.
Trailer Undergoing Terrigenesis
It's our first look at the Marvel ABC Inhumans show and with 2 months until the debut, the first trailer provides us with our first glimpses of the Royal family in movement; I would say "action" there but there was no Medusa hair movement! A big, slobberin' time consolation was witnessing the huge, cuddly Inhuman teleporting pup, Lockjaw...sure to be a fan favorite. Watch it Baby Groot, Lockjaw is coming for your "most adorable" Marvel title.

(Lockjaw lapping Cosmo...which could absolutely happen now that both have been established in the MCU)
Black Bolt, looks silent. Gorgon has hooves, accurate. Crystal appears with the trademark black hair stripes. Karnak may end up being my favorite. Well besides...Bolt's brother, Maximus who can be heard throughout the trailer rallying the people of the moon based Attilan. Check out the trailer above and let me know what you think!
Legacy Upon Us
Marvel has released the teaser image for the Legacy imprint launching this fall providing a glimpse of the throwback to "original" numbering and storylines to boot. How the return to original numbering will impact current titles will soon unfold, hopefully this implies that Marvel titles will have greater longevity and lack the number of reboots that have plagued the company in past years. This would be especially encouraging for readers who are just looking to get into Marvel, or for those aiming to pick back up on their favorite Marvel Superheroes.
Comic of the Week
With Secret Empire #5 hitting the shelves this past week, it was just too glorious to choose any other book for Comic of the Week. I could have absolutely seen myself choosing Jean Grey #3 (a self-discovering underwater adventure with Namor) or Royals #4 (the Inhuman Royal family returns to the destroyed Kree world of Hala and face the recently beefed up, world breaker -- Ronin the Accuser)....but Secret Empire is just...too...sweet.
Some books occasionally will have a cliff hanger...this one, mid-series issue....has THREE! Writer Nick Spencer is taking readers on a journey where very few events have taken us, into the complete dark. I personally enjoy when I cannot guess where an event is going, and this one has me hook, line and sinker.
Secret Empire #5 moves at a swift pace and gives us a quick turnaround from the Secret Empire #4 question of who is the mole amongst the Underground. Hydra Steve remains a cut throat tactician during a meeting with Beast, from the mutant nation of New Tian (located in Northern California), and flexes his "worthiness" in an intense meeting when pressing to locate a shard of the Cosmic Cube. Black Widow's mission with most of the Champions had paid immediate dividends when a high ranking Hydra member turns face and assists the "Red Room" group to secure who could turn the tide against Hydra nation. Whom that is? I haven't a clue personally but I'm open to hearing what you think!
Hydra Steve also revealed his secret weapon and holy smokes...could Ulysses vision back from Civil War II still come to fruition? Leave a comment!
Song of the Week
Spider-Man: Homecoming swings into theatres this week so why not throw it to Michael Giacchino whom scores the soundtrack? Here Giacchino hits all the right notes revamping the everygreen original Spider-Man TV series theme song. I haven't looked this forward to a Homecoming since...well...ever.
Hope everyone has a very safe and Marvel-ous 4th of July! See you here, or at Uncanny! King of Prussia, next time...until then, keep it light!
Uncanny! is committed to providing great products and quality service to all of our customers, both in-store and online. To become an Uncanny! Insider, click the logo below, and make sure to enter your email to stay up to date with everything that's happening at Uncanny! and in the comic book, pop culture, and gaming world.