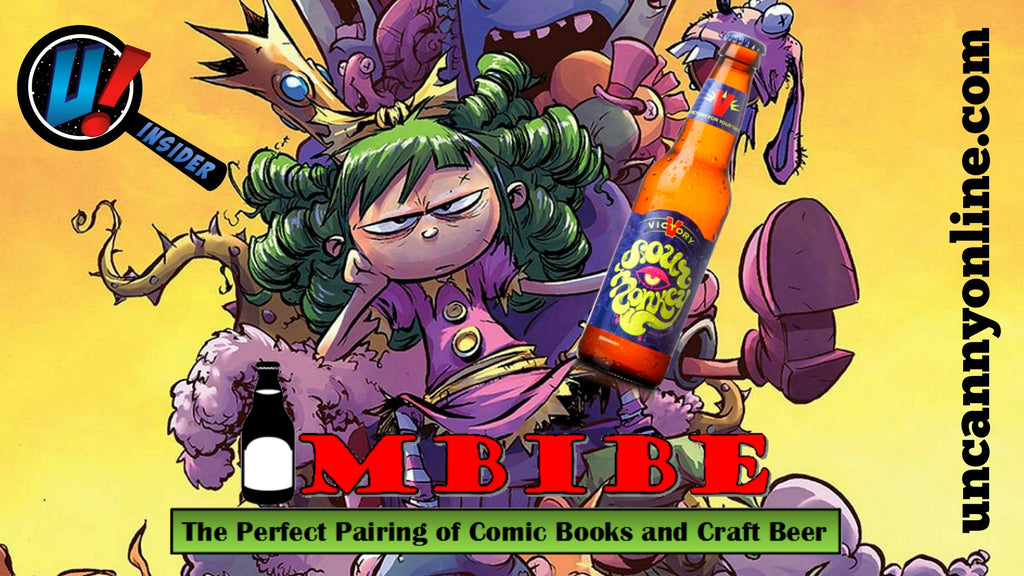 By Rob McFee
This blog post is intended for readers 21 and over.
This Week's Pairing:
"I Hate Fairyland" Vol. 1 with Sour Monkey
"I Hate Fairyland Volume One: Madly Ever After"- Written and Drawn by Skottie Young with Colors by Jean Francois- Beaulieu; Lettering & Design by Nate  Piekos of Blambot; Logo Design by Rian Hughes- Published by Image Comics, Inc. April 2016
Sour Monkey- American Wild Ale- Sour Brett Tripel- 9.5% Alcohol by Volume (ABV)- Victory Brewing Company, Downingtown, PA USA
Prepare yourself for a whimsical adventure for your mind and your palate. Not since Willy Wonka and candy has there been a pairing that was simply just made for each other.
Our pairing begins with the cover and label. The use of vibrant and rich color and Skottie Young's and the Sour Monkey label designer's (Identity unknown) quirky styles, will have you primed for something that promises to be unique and flavorful. The logo of Sour Monkey compliments I Hate Fariyland's central character Gertrude; from the green of her hair to the pinks and purples of her clothing, it's as if Jean-Francois Beaulieu, I Hate Fairyland's colorist, pulled his inspiration from this very bottle.
Skottie Young and Victory Brewing Company borrow from two classics; Alice, Through The Looking Glass  (If "Tank Girl" were cast in the role of Alice) and Golden Monkey.  Creating from their foundations, a totally twisted, entertaining, adults only, anarchy filled fracas, that will satisfy the brat-beast in us all.
 At first pour Sour Monkey's appearance is very much like its Golden Monkey counterpart with a rich gold ember and pours with a respectable head. The zesty acidic aroma is reminiscent of fresh squeezed lemons and limes; reminding you that you must never judge a beer by it's color nor a book by it's cover-
"I Hate Fairyland" at first glance will remind you of some of Skottie's all ages titles: "AVX: A-Babies vs X-Babies" and The "Wizard of Oz" series.
 Skottie Young's opus (Yes it's that good!) IS NOT FOR KIDS. "I Hate Fairyland" is a dark comedy starring Gertrude, a six year-old girl who is magically transported to Fairyland, where she is given a one day quest to explore Fairyland and find the key that will take her home. Fast forward twenty-seven years later, she still has not found the key, worst yet she is now in her thirties and trapped in the body of a six year-old; resulting in her becoming an insane, uber violent, murdering sociopath. Twenty-Seven years in the land of rainbows, glitter, and unicorns could do that to anyone. The main plot involves her search, by any means necessary, for a key that will allow her to leave Fairyland.
Sour Monkey's flavor pairs with this sweet and sour comic perfectly. At first taste the tart acidity grabs your taste buds and your lips make that all too familiar pucker; but then that Golden Monkey sweetness comes in on the back end, and suddenly you're transported to your own fairyland. Childhood memories of lemon heads, sweet-tarts, and sour patch kids will flood your mind while the 9.5% ABV makes you glad you're an adult.
The intelligence and creativity behind both these creations should not go unmentioned. Creating a product that is truly for adult consumption without taking short cuts is difficult business! Some creators choose to go with nudity, profanity or a high ABV in the case of brew masters, to make their product more appealing to adults. It seems they forget that it's the content and quality of a product that makes it truly mature.
Skottie's writing and art style is smart, well thought out, and funny (Seriously LOL! Funny)- Victory's Sour Monkey a sour brett tripel is a brew other brew masters should be jealous of. Sour Monkey's balance of tart with sweet under tones is impeccable.
If your tastes skew toward dark comedy and sour beers then "I Hate Fairyland" and Sour Monkey is a combination that you'll truly enjoy.
Until next week read and consume responsibly.
CLICK HERE TO BUY   "I Hate Fairyland" - Volume One- "Madly EverAfter" 
Please feel free to comment.  If there's a craft beer or comic you'd like to see paired, feel free to leave your suggestions in the comments.
 Uncanny! is committed to providing great products and quality service to all of our customers, both in-store and online. To become an Uncanny! Insider, click the logo below, and make sure to enter your email to stay up to date with everything that's happening at Uncanny! and in the comic book, pop culture, and gaming world.