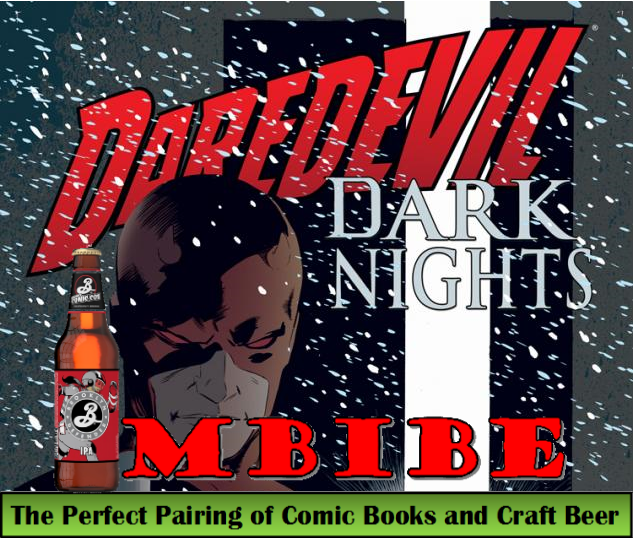 This blog post is intended for readers 21 and older.
By Rob McFee
This Week's Pairing:
"Daredevil Dark Nights" Written by Lee Weeks, David Lapham, & Jimmy Palmiotti- Art by Lee Weeks, David Lapham, & Thony Silas- Published by MARVEL Worldwide Inc., 2014
Brooklyn Defender IPA- American IPA- 6.7% Alcohol By Volume (ABV)- Brooklyn Brewery, New York, USA
The pairing of MARVEL'S "Daredevil Dark Nights" with Brooklyn Defender IPA is serendipitous, to say the least. MARVEL'S crimson avenger has been protecting the innocent of New York City for the past 53 years, and though for not quite as long, Brooklyn Brewery has been defending our palates by providing top quality craft beer to New York City residents and the world. So it just made sense to do an IMBIBE pairing with these two Defender's of all things good.
At first pour Defender's appearance is reddish and dark brown in color, much like the costume of a certain Netflix "Defender", but in the place of horns this Defender is topped by a soft white thick head. The aroma is mild hops with some citrus and fruity overtones. The flavor is definitively IPA with subtle sweet caramel notes and a bitter bite, which enhances the imbibing experience, not to mention at a 6.7% ABV Defender ranks at the top with some of the best IPAs brewed today.
"Daredevil Dark Nights" brings together some of the greatest talents in comics, who bring you gorgeous new stories featuring the Man Without Fear!
Lee Weeks pulls double duty using his amazing writing and artistic talents to tell a tale of a blizzard that brings New York to a standstill - and a little girl in desperate need of a heart transplant lies on death's door, unless Daredevil can get to her in time! The trouble is, DD is recovering from a severe concussion!  This is just one of three amazing stories starring the Daredevil.
 If your looking to spend an evening imbibing in both heroes and craft beer, then "Daredevil Dark Nights" and Brooklyn Defender IPA are the perfect pairing for you.
Until next week read and consume responsibly.
Uncanny! is committed to providing great products and quality service to all of our customers, both in-store and online. To become an Uncanny! Insider, click the logo below, and make sure to enter your email to stay up to date with everything that's happening at Uncanny! and in the comic book, pop culture, and gaming world.