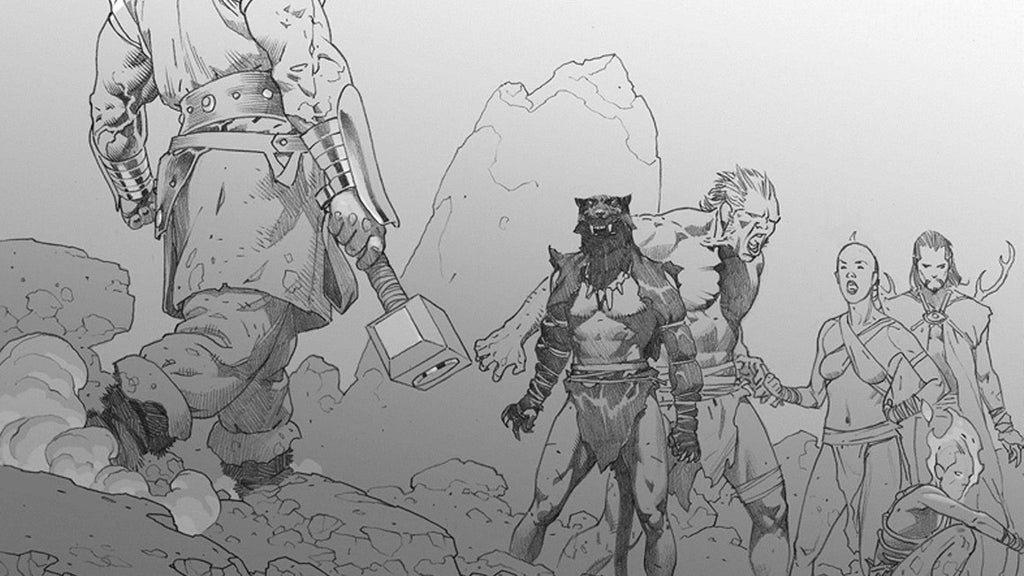 by Dustin M. Best
Marvel news is coming in swiftly from all angles...comics...movies...tv...life. Where do you go to digest it all in one-shot? That's right...Marvel Tidbits. This past week in Marvel has fulfilled our needs of seeing what the Legendary Avengers of 1,000,000 BC are looking like to interesting takes on characters hitting the big screen.
Let's take a bite of crime, shall we?


Avenger Fossils

Jason Aaron / Esad Ribic - Marvel
Marvel continues to trudge ahead in revamping their comic line-up, the Avengers of 1,000,000 BC...stars of the Marvel One Shot, Legacy...are bound to play a monumental role in the shaping of  an almost re-newed Marvel universe. These cosmic and mystical forces are represented in full force, and by full force...I do mean POWER. Shown above we have (L to R) Starbrand, Iron Fist, Phoenix, Odin, Black Panther, Ghost Rider and Agamotto. 
WHOA!
This team is chock-full-o-history. These historic forces have all impacted the proceeding generations of Marvel heroes and villains alike. How will introducing this never before seen team of Avengers impact the legacy of the heroes of today? Legacy drops September 27th, 2017, however...
Comic of the Week

Marvel Generations is a 10 part series chronicling the "current" iterations of characters meeting up with their predecessors so to speak. The first release just dropped and is my Marvel Comic of the Week...Generations: The Strongest.
The story dives right in with Amadeus Cho's Totally Awesome Hulk meeting up with Bruce Banner's Hulk in the relative past. Not a whole lot of backstory as far as how this occurred, but General Thunderbolt Ross has his droids attacking the Hulks before a sea creature of some sort joins the battle. While the book keeps the explosive action rolling, the dialogue between Amadeus and Bruce stirs something up in Amadeus. It's this revelation that will propel Amadeus's Hulk character and will be a welcome change to long time Incredible Hulk fans.
Generations is surely to cause a large imprint in the Legacy of Marvel moving forward.
Pushing Luck

Zazie Beetz as Domino
While certainly not the traditional comic look that some may have been hoping for, I'm a fan of the Zazie Beetz look as Domino from the upcoming Deadpool 2 flick. The black around the eye may be gone, but I'm certain that the luck Domino creates is still there. Created by Rob Liefield, Domino debuted in the pages of X-Force #8 (1992). What do you think of the new look?
Your Hair Moves Me
It's the moment I've been waiting for since Marvel first started dropping Inhumans trailers for the highly anticipated TV series...Medusa's hair in action! The CGI assisted hair movement looks to flow rather seamlessly, especially when Medusa commands her hair to wrap around the maniacal Mad Max's throat. It's almost as if Iwan Rheon (Maximus the Mad) has a natural niche for playing a tormentor to red heads.
Inhumans debuts in IMAX September 1st with the first 2 episodes before debuting on ABC on September 29th running the full 8 episode series.
Song of the Week
I feel like this is just too on point looking back on Medusa. She certainly is more than just her hair as India.Arie proudly sings on "I Am Not My Hair". 
Also...be sure to check out Issue #16 of IMBIBE with Rob McFee where he so perfectly...and eloquently....pairs Daredevil: Dark Nights with Brooklyn Brewery Defender...just click on the image already!
That's it for Marvel Tidbits w/ Dustin, hope you have a wonderful weekend, you are more than just your hair....keep it light!
Uncanny! is committed to providing great products and quality service to all of our customers, both in-store and online. To become an Uncanny! Insider, click the logo below, and make sure to enter your email to stay up to date with everything that's happening at Uncanny! and in the comic book, pop culture, and gaming world.