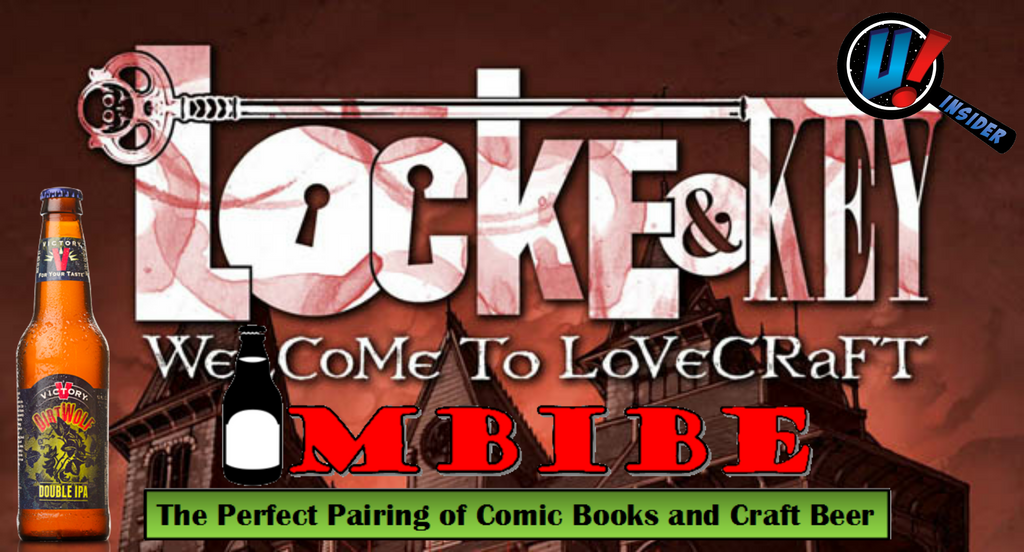 This blog post is intended for readers 21 and over.
This Week's Pairing:
"Locke & Key" Volume One: "Welcome to Lovecraft"- Written by Joe Hill- Art by Gabriel Rodriguez- Published by IDW Publishing, October 2008
Paired with:
Dirt Wolf Double IPA- Imperial IPA- 8.7% Alcohol By Volume (ABV)- Victory Brewing Company, Downingtown, PA USA
When I thought about pairing Joe Hill's "Locke & Key", my first thought was a stout, but stouts didn't quite match the tone of this comic.
 "Locke & Key" masterfully balances that fine line between horror and suspense. I needed something with an equal bite, something that lingers after you've finished it, much like the comic stays with you long after you've read the final page.
Before we begin our pairing, I thought it would be interesting to know a little about the author, Joe Hill.  
Joseph Hillstrom King (born June 4, 1972), better known by the pen name Joe Hill, is an American author and comic book writer.  He is the son of authors Stephen and Tabitha King. Yes, the Stephen King, one of the world's best-selling and most-recognized living novelists.
Hill chose to use an abbreviated form of his given name (a reference to executed labor leader Joe Hill, for whom he was named) in 1997, out of a desire to succeed based solely on his own merits rather than as the son of Stephen King. With that being said, the creative, creepy apple does not fall far from the tree.  
To say that "Locke & Key" and Dirt Wolf are aggressive, would be an understatement, from first page to first pour you are immediately pulled into a world where fearing your shadow is sound advice and a beer's bite is much larger than it's bark. 
Our pairing begins with the art of Gabriel Rodriguez. His inks are dark and deliberate, his style is subliminal and digs deep into your mind resonating with that part of your subconscious responsible for all of your bad dreams. The subdued colors of Jay Fotos enhances this nightmarish dreamscape and creates the necessary suspense that each page deserves. 
At first pour Dirt Wolf is slightly hazy with a pale amber color and an off-white head, very complimentary to Jay Fotos colors. The aroma is odd, with some fruity (wild berries) notes, hops, and sweet toasted malt. The taste is unrefined, wild and bitter, but very good with an impressive hop presence.
Joe Hill's "Locke and Key" and Victory's Dirt Wolf are two stories made for each other. Both capture the classic feel of their genres (Suspense/Horror and IPA's), while equally standing apart from the crowd. They make no excuses for their imperfections, however, owning every last one of them and creating art and with each sip and turn of the page you will find yourself pulled deeper and deeper into their lore.  
"Locke & Key" Volume One "Welcome to Lovecraft", tells the story of Nina Locke and her children who return to their father's childhood home following the traumatic events of his gruesome murder. The New England mansion aptly named Key-House is a well known home in the town of Lovecraft, but is more that what it seems. The Locke's soon discover they are not the only ones who call Key-House home. Within lies a hate filled, relentless creature that will not rest until it has set free that which resides behind the black door.
Dirt Wolf's Humulus Lupulus (hops) have empowered brews with bite and character since the 11th century. Dirt Wolf is a tribute to these untamed vines which rise from the earth with the voracity of a 'wolf among sheep.' -ratebeer.com
The pairing of "Locke & Key" with Dirt Wolf will linger with the imbiber, like a ghost story you heard once, told around a campfire, deliciously haunting and worth repeating.
"Locke & Key" Volume One: "Welcome to Lovecraft"
Until next week read and consume responsibly.
Please feel free to comment.  If there's a craft beer or comic you'd like to see paired, feel free to leave your suggestions in the comments.
 Uncanny! is committed to providing great products and quality service to all of our customers, both in-store and online. To become an Uncanny! Insider, click the logo below, and make sure to enter your email to stay up to date with everything that's happening at Uncanny! and in the comic book, pop culture, and gaming world.