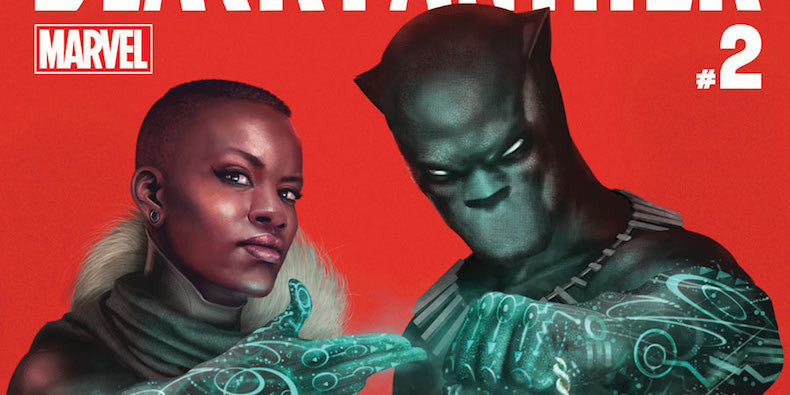 by Dustin M. Best


Per usual, here we are on a Sunday afternoon basking in the heat that Marvel has brought us...or maybe that's just the Summer sun...or the Human Torch.
No matter, anti-matter....Marvel Studios released it's first "teaser" trailer featuring the solo Black Panther flick and Marvel announced some interesting news regarding what may come after the events of current blockbuster event, Secret Empire. Let's dip these tidbits!


Welcome to the Jungle
Are you squealing? I did as well. This teaser trailer provided our first glimpses of a few key Black Panther allies and baddies amidst stunning shots of the African back setting. Klaue (Andy Serkis) is even back in action, minus half an arm thanks to Ultron.
Director Ryan Coogler did indeed confirm that Klaue will indeed get some type of powerful prosthetic Wakandian weapon.
The MCU debut of Killmonger (Michael B. Jordan) and M'Baku aka Man Ape (Winston Dukes) are quintessential in helping establish rogues from varying tribes surrounding Wakanda.
In comic book lore, Killmonger's father worked for Klaw (Klaue) and was exiled from Wakanda. After his father's death, Killmonger blamed both T'Challa and Klaw and seeked revenge. The trailer shows Killmonger breaking Klaus out of custody; how this relationship will correlate back to the comics should provide us with a few very interesting interactions between the two rogues.
M'Baku was born in Wakanda and quickly became the second best fighter that Wakanda has seen, right behind T'Challa. Looking to return Wakanda to a more "natural" state, M'Baku joins up with the outlying White Gorilla Cult and becomes...Man-Ape; gaining superhuman powers by dining on white gorilla flesh and bathing in its blood. Will we see that in the movie? I'd bet against that.

Going Back in Marvel Time
While I'm not one to look too far ahead, Marvel has announced their next "event" entitled Generations. There will be 10 one-off stories comprising the Generations series, each story is a team-up of current, young heroes and their "legacy" counter-part taking place outside of the current universe. Who doesn't want to see both Wolverines in their prime? Look for the event come late Summer 2017.
Comic of the Week
The latest Iron Fist series has been an absolute kung-fu filled fest. Issue #4 finds Danny continuing his chi-seeking quest on the island of Liu-Shi, whose people were once members of the sacred city of K'un Lun. Battling through the seven masters, Danny discovers what this battle could ultimately be leading up to. This series is a must read!
Song of the Week
"Run the Jewels, "Legend Has It". I mean, what else could it be? It was the featured song in the Black Panther trailer." -Dylan The DC Guy
Even DC-minded Dylan has to give proper dues to the Black Panther trailer. Run the Jewels, the hip-hop duo of Killer Mike & El-P, may be the most socially conscience act in hip-hop. Depicted by their symbol which can be seen on the video front and described by RTJ:
"For us, the RTJ1 hands were about "taking what's yours"—your world, your life, your attitude. The RTJ2 hands were wrapped in bandages, signifying injury and healing, which for us represented the growth in ideas and tone of that album. For RTJ3 the bandages are off, the chain is gone and the hands have been transformed into gold. For us this represents the idea that there is nothing to take that exists outside of yourself. You are the jewel."
Marvel has continued to show support for this duo by featuring their trademark hands on several variant covers:
This concludes the week in Marvel Tidbits with Dustin, I hope you get the opportunity to watch, read or listen to something Marvel-ously new!
Uncanny! is committed to providing great products and quality service to all of our customers, both in-store and online. To become an Uncanny! Insider, click the logo below, and make sure to enter your email to stay up to date with everything that's happening at Uncanny! and in the comic book, pop culture, and gaming world.