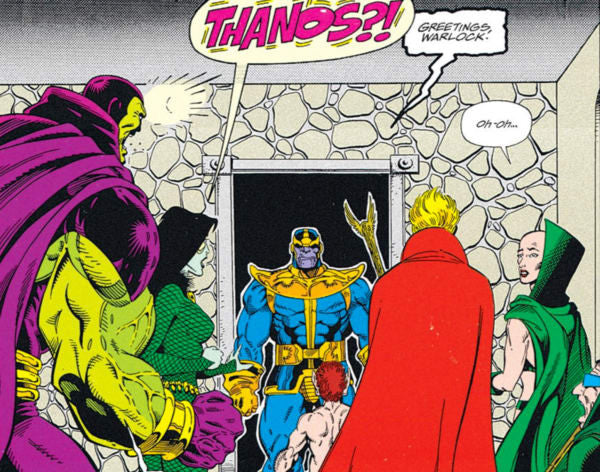 by Dustin M. Best
Hi friends of Tidbits! It's Dustin here with this week's latest mind altering briefings of Marvel news from this past week. But first a little plug action dynamo time.


For those of you who have been craving something less, well...super hero-sey, the Uncanny! Insider will be debuting a new weekly segment entitled Indie Scene. The weekly extravaganza of Indie love will cover those owner-created publications and smaller publisher comics.
 
And speaking of "smalltime" comics, I encourage you to assist our friend, T. Perran Mitchell, and chip in on his kickstarter for 
The Chronicles of the Tal-Nor #2. 
Go ahead and bolster your independent, local artist community by
donating here
. 
Now let's dive deep into the vast universe that is Marvel Tidbits...
Virtual Insanity
Were you expecting me to just dump an ice cold Jamiroquai track on you for the Song of the Week? Exactly, this is Tidbits and Dustin's world...where anything can happen. 
With the rise in popularity of VR games, it was just a matter of time until Marvel branched out into making everyone rock virtual consoles on their face and smash around their living rooms causing mass destruction. World Breaker VR I shall deem it. Side note: It will be hilarious in 3-4 years (if that) when the current VR headsets are 20x smaller and we look back to everyone rocking the current set-ups.
Check out the just released trailer from the Disney D23 Expo...
D23 and I'm Thinking of You
According to my very reliable customer sources, the teaser trailer for Infinity War was shown at the D23 Expo and was Infinitely-epic. Shots of Thanos in action may be the most appealing part for me, but I'm certainly geeked over the slew of Marvel Cinematic Universe combination of heroes that we will be seeing. Doctor Strange and Star-Lord combo wombo moves? That's a mystical cosmic combo meal of awesome. 
While the rest of us await for the trailer to become public, which may or not be after San Diego Comic Con, check out the Infinity War cast gathering from the D23 Expo:
Comic of the Week
 
If I could not be any more hype for the upcoming Netflix Defenders series, unless I'm Mojo Rawley who stays hype...all the time. 
Brian Michael Bendis continues to establish the Defenders as the de facto New York City crime fighting group. Two beautiful things about this book: the pulling together of Danny, Matt, Luke and Jessica is seamless and the mysterious resurrection of a powered up Diamondback proves to be a strong drawing point moving forward. Check out the Defenders at your local Uncanny!
That will do it for this week in Marvel Tidbit with Dustin, have a wonderful week in this reality and keep it light!
Uncanny! is committed to providing great products and quality service to all of our customers, both in-store and online. To become an Uncanny! Insider, click the logo below, and make sure to enter your email to stay up to date with everything that's happening at Uncanny! and in the comic book, pop culture, and gaming world.