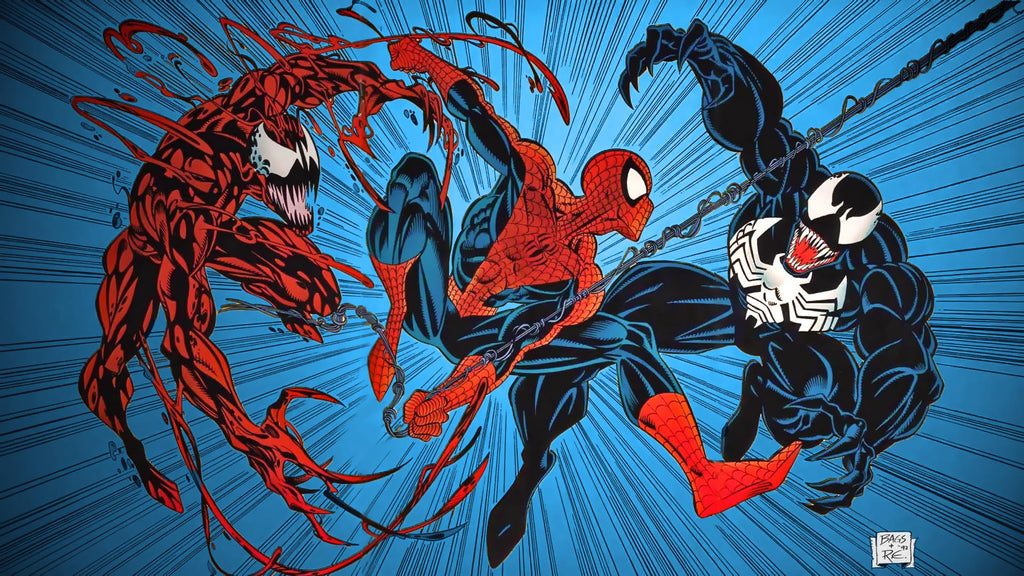 By Dustin M. Best


It's a Sunday and there you are gazing upon glorious tidbits of Marvel. It's basically your weekly wrap up minus the calories with extra symbiotic sauce.
Interesting news from, of course, Sony, and a few more glimpses from Marvel properties giving you a sneak peak of future happenings! Let's dig in!
Symbiotes, mannnn

(from the smash hit, Maximum Carnage, now available for your Sega Genesis)
It's actually happening and I cannot stop geeking my face off. Do I care if it's Sony? Nope. Do I care that it may be rushed and just a money grab? Nope.
Sony has revealed that Carnage will be the main antagonist in the first solo Venom movie! The thought provokes my childhood love of Maximum Carnage, the 12 part Spider-Man title crossover event that pitted Spider-Man, Venom & Crew going up against the homicidal maniac that is Carnage. The event was huge for a slew of young readers and spawned the very difficult Maximum Carnage video game.
The film is reportedly receiving an R rating to really open up the gateway for a true take on the Carnage that is Cletus Kasady. How Venom, played by Tom Hardy, will be portrayed may be in the form of the anti-hero, "Lethal Protector" style role where he stalks the shadows in San Francisco taking out villainy in his own manner. Now how the Venom symbiote actually arrives on earth and if we see how Eddie Brock acquires the symbiote is a complete different barrage of guessing what Sony will do.
Venom is slated for an October 5, 2018 release date, which falls after Avengers: Infinity War (release date May 4, 2018) in which Tom Holland's Spider-Man stars. As mentioned in last week's tidbits, Sony's Amy Pascal noted that Venom may be a part of the shared Spider-Man / MCU universe so to speak. Will the symbiote be introduced through Infinity War?
In other Sony-related movie news, rumors are long time Spider-Man nemeses Mysterio and Kraven will be receiving solo movie flicks. How true these rumors are, I have no idea but I'm just holding out hope on a "Kraven's Last Hunt" storyline...which would obviously need Spider-Man.
Please Sony, don't play with my Marvel heart. Filming for Venom is set to begin this Fall so we should (hopefully) have a clearer picture of what will be going down.
 The Marvel Legacy


In upcoming solicitations, Marvel released a slew of covers for their upcoming Legacy run that they claim will change the landscape of comics and affect every single Marvel character.
"A new initiative that will take things back to our iconic history, with a firm eye on the future, MARVEL LEGACY will present stories that remind everyone — newcomers and longtime fans alike — why Marvel stands as the premier name in fiction," said Marvel Editor in Chief Axel Alonso in yesterday's hype release. "Our titles will unearth gems from Marvel's rich history, remind readers of connections between characters, and usher in the return of some major characters who've been missed.  Above all else, we want to inject our comics with a massive dose of fun!"
Deep down, I've been Mighty Thor level envious of the string of righteous DC lenticular covers during The Button event. I am hoping Marvel isn't just flaunting the history of these legendary covers with these gifs, but also incorporating them into the Legacy imprint moving forward.
Check out more information regarding these titles here at Diamond and make sure you get into your local Uncanny! to start your subscriptions!
Comic of the Week

Weapons of Mutant Destruction #1 made its debut this past week...and I'm already chomping at the bit for more. This event focuses on a rather fun team-up featuring Amadeus Cho aka the Totally Awesome Hulk (soon to be The Incredible Hulk) or aka "That's not my Hulk!" and the seriously snarling team of Old Man Logan, Sabretooth, Domino, Warpath & Lady Deathstrike. The team is band together when they are all separately hunted by the all new Weapon X program lead by a mysterious, director and the always crazed Reverend Stryker...in full preach mode.
Issue #1 gives you a full-on view of what the secretive Weapon X program is up to and the motivation behind their experiments. Amadeus-Hulk's odd-pairing with Lady Deathstrike on a side mission was an absolute gem to watch unfold, while being logical in its own right. Weapons of Mutant Destruction is a must read for any claws-in-action fiend, be sure to be on the look out for tie-ins in the Weapon X and Totally Awesome Hulk on-going series.
Song of the Week

With Marvel Comics rolling into a Legacy movement, why not throw it all the way back to 1966 and the original Marvel Super Heroes theme song? The video has me yearning for Namor on the big screen, whose rights are apparently back at Marvel. I am hopeful that in the wake of recent Secret Empire events, that Namor heads back into more of a frontline role in the Marvel Universe.
And that wraps up this week's Marvel Tidbits with Dustin, until next Sunday...keep it light!
 Uncanny! is committed to providing great products and quality service to all of our customers, both in-store and online. To become an Uncanny! Insider, click the logo below, and make sure to enter your email to stay up to date with everything that's happening at Uncanny! and in the comic book, pop culture, and gaming world.