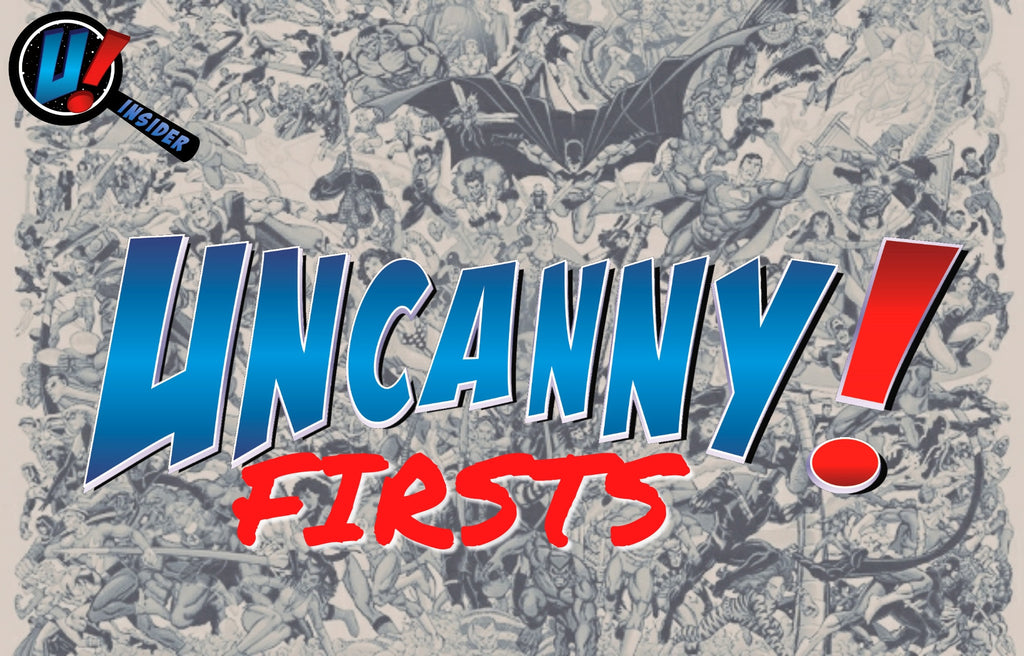 By Dustin M. Best
One day away from New Comic Wednesday and I welcome you to Uncanny! Firsts where we preview tomorrow's newest titles, today!
Secret Empire #1 – Marvel
Nick Spencer (W), Steve McNiven (A), Mark Brooks (CA)
Marvel's all-in, major comic book event starts tomorrow with Nick Spencer's Secret Empire. If you follow us across our social media outlets (Instagram, Twitter, Facebook), you will know that we at Uncanny! are very stoked about this storyline. Steve Rogers is the ultimate villain is outed as the new leader of Hydra along with being the active director of SHIELD. Emotionally resonant chaos is about to strike the Marvel Universe!
All-New Guardians of the Galaxy #1 – Marvel
Gerry Duggan (W) Aaron Kuder (A/CA)
Embarking on an "All-New" adventure, the ever so popular Guardians of the Galaxy gets primed for their movie release weekend by taking a trip deep into the cosmos. Two elders of the universe, The Collector and The Grandmaster, are behaving more like teens of the universe and the Guardians must find a way to settle their feud. Why is Groot so small still? Find out more tomorrow!
Bane Conquest #1 – DC
Chuck Dixon (W) Graham Nolan (A/CA)
This twelve-issue series debuts tomorrow from the same pair that first created Bane, Dixon & Nolan. As the cover may depict, Bane wants nothing more than world domination for his growing crime syndicate. Where will his conquest lead him? Can the muscle-bound tactician be stopped?
Black Bolt #1 – Marvel
Saladin Ahmed (W) Christian Ward (A/CA)
(Spoiler) After finding out in Royals #2 that their Black Bolt…wasn't the Black Bolt...what is the real Black Bolt up to? In his very first solo series Blackagar Boltagon finds himself imprisoned, but by whom? And what does Crusher Creel…aka the Absorbing Man have to do with any of this?
(from ABC Marvel Agents of Shield)
Eternal Empire #1 – Image
Sarah Vaughn (W) Jonathan Luna (A/CA)
From ALEX + ADA, Vaughn and Luna combine forces once more to bring you Eternal Empire. The countries of Saia have been under siege for decades thanks to the Eternal Empress; however, one young lady is haunted by visions of what could come if this war continues. Will she get out of this alive or will she stay and fight?
Injustice 2 #1 – DC
Tom Taylor (W) Bruno Redondo, Juan Albarran (A) Jim Lee, Scott Williams (CA)
Are you ready for Injustice 2 the video game? To get powered up, check out the prequel to the game with Injustice 2 #1. The follow-up to Injustice: Gods Among Us, the story continues with Superman locked up and Batman doing his best to steady Earth once again. What villains, or rogues, will try to take over the earth this time around? There is always a threat in Injustice!
Jean Grey #1 – Marvel
Dennis Hopeless (W) Victor Ibanez (A) David Yardin (CA)
Marvel's reinvigoration of the ever destructive Phoenix Force (see Thanos #6, Mighty Thor #18, Old Man Logan #22) continues with the Jean Grey solo series. No Jean is not back from the dead…again; this is merely the Jean Grey that arrived from the past along with the other original X-Men thanks to Beast (read All-New X-Men). Jean Grey has a premonition the Phoenix force is coming…again. You will have to read along to see if this leads to the same fate as the "original" Jean Grey!
Pestilence #1 – Aftershock
Frank Tieri (W) Oleg Okunev (A) Tim Bradstreet (CA)
My sleeper of the week, just based off of premise alone, is Aftershock Comic's Pestilence. A story about the late 14th Century and based around the "Black Death". However, this is no normal plague (if there is ever such thing as a "normal" plague) and was buried through cover-ups and secrets throughout the centuries. What really happened across England leading to over 100 million lives being lost?
Predator Hunters #1 – Dark Horse
Chris Warner (W) Francisco Ruiz Velasco (A) Doug Wheatley (CA)
The Predators are ready to hunt Earth's mightiest gamesmen, but what happens when prey becomes predator? The humans pull together to attempt to make the Predators extinct…at least here on Earth.
Youngblood #1 – Image
Chad Bowers (W) Rob Liefeld (A) Jim Towe (A/CA)
After 25 years of existence, Image Comics is growing by the year. However, without titles such as Youngblood, Image may not be around today. Youngblood is back with a whole new cast and a brand-new mission…unite and locate a missing, young hero. Get ready for non-stop action in Youngblood!
Ensure to add these titles to your Uncanny! Comic Subscription today! Don't have a current subscription to make sure that you get your titles every week? Check in with your local Uncanny! to set one up absolutely FREE of charge, just pay as you pick up your books!
Uncanny! is committed to providing great products and quality service to all of our customers, both in-store and online. To become an Uncanny! Insider, click the logo below, and make sure to enter your email to stay up to date with everything that's happening at Uncanny! and in the comic book, pop culture, and gaming world.